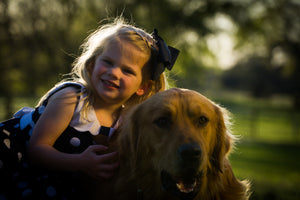 Why Pets Can Be Good for Kids and Your Family
Most kids are interested in animals and, once they discover the world of pets, it's not long before 'can we …?' questions start! Yes, it's a big commitment but whether they're pestering for a puppy to play with, a kitty to cuddle or a small furry friend, there are some very good reasons to consider including a pet in your family.
#1 Pets make great teachers
Pet ownership promotes life lessons a-plenty for children, whatever their age. From walking the dog, to cleaning cages or hutches, all feeding, handling and helping opportunities enable kids to learn about responsibility and caring. Meanwhile, caring for a pet also builds self-esteem, as children learn the value of their own contribution to the welfare of the pet - and the family. 
Pets are also brilliant for enhancing and stimulating overall childhood development, including speech, language, learning and socialisation. Whether giving one-word commands with clarity or reading aloud to a pet, kids quickly recognise their pet is a non-critical audience, which really builds their confidence. 
Sadly, our pets don't live forever but dealing with the death of a pet helps children understand the circle of life. In many ways, from the early years of house-training mess and chewed homework through to their last loving moments, pets teach children to cope with the challenges life can bring.
#2 Boost immunity
In recent years, studies have identified a link between children growing up with pets at home and the development of stronger immune systems. Alongside reducing children's susceptibility to developing allergies and asthma, research also showed that in pet-owning households, children aged 4 - 11 had higher levels of antibodies specifically known to fight cold and flu infections. 
#3 Support and comfort
Being a child is tricky, manifesting in moods and anxiety that even well-meaning parents or guardians can't always fix. But our animal companions offer non-judgemental comfort and security, and that gentle act of stroking a pet can lower blood pressure, reduce anxiety and allow 'time out' without extra stress or loneliness.
#4 Companionship
Pets are often promoted for companionship for the elderly, but can do the same for our kids. If your child doesn't have siblings or friends living nearby, a pet's an ideal home companion. Pets can also help kids to make new friends, giving your child something to chat about at school.
#5 Healthy household habits
Want to encourage your family to become more active? Choosing a pet which needs exercise and stimulation can help the shift to healthier household habits. Whether through running around with the dog or supervising a rabbit-run in the garden, getting the kids involved with exercising your pet helps both kids and critters to wear each other out a bit!
If indoors is the only option, encouraging your child to follow the hamster-ball around the house to prevent it getting stuck, or playing games with your indoor cat also prompts kids to get moving and relationships growing - healthy habits for all households.
#6 A focus for family fun
And of course, we must mention fun! A pet is a central focus for all the family, building bonds and sharing in the entertainment a furry family member brings.
Paul Manktelow
Veterinary Surgeon


Dr Paul Manktelow is a vet who's worked for almost 20 years on the front line in some of the UK's busiest veterinary hospitals. Paul also appears regularly in the media as a TV and radio presenter, writer, public speaker and podcast producer.
---