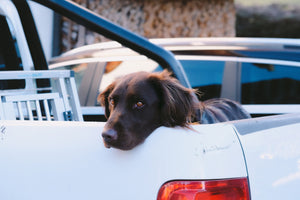 Top Tips For Moving Home With Pets
Moving home is one of life's most stressful events for us humans but imagine the  confusion and stress our pets must feel when faced with these huge changes. As an owner you have some additional considerations  in moving your pets but planning things in advance should help you lower your pets stress levels and make the move much smoother for you all.
Keeping things familiar….
Familiarity is sacrosanct to our pets and by keeping their vital resources in the same place for as long as possible will automatically help to keep your pet calm. Prior to the move try to keep your pets  belongings such as beds, food and water bowls and favourite toys in the same place and prioritise these as items that should be packed away last and then unpacked first at the new home.
Routine, Routine, Routine!
Much like familiarity, routine is one of the most important things to try and maintain. This applies to before, during and after the move. Keeping your pets meal times and daily walks at the same time will help them to feel more secure amidst the new surroundings.
Feline Confinement….
Cats tend to be much more sensitive and stressed by changes to their environment. Once moved I would highly recommend that you keep your cat(s) indoors for at least a week. Getting them settled into their new indoor environment is essential. Once you feel they are ready to explore outside, start by letting them out on an empty stomach...this should prevent them from straying too far and ensure their return in order to fill those empty tums.
Create a chill-out zone…
On moving day create a safe space for your pet in the new home. This should ideally be a secure room that your pet can relax in away from the hustle and bustle of unpacking or redecorating. It should be filled with familiar belongings and you should check in on them often to ensure they are not becoming distressed. In multiple pet households remember that tensions may run high, increasing the risk of conflict between your pets, so for some separate spaces should be considered.
The new sights and smells of home….
If you are moving somewhere local to your old home it would be a good idea to walk your dog in the area in the run up to the move. Dogs lead by their noses so by doing this they will get a chance to familiarise themselves with the scent of the area so that it isn't completely alien to them on moving day. It will also give you the opportunity to scope out new walking routes, dog parks and where busy roads or areas may be.
Update your records...
If you are moving into a new area it would be a good idea to ensure you look into and register at a new vets in the area and have your pets medical records sent over prior to the move. It is a legal requirement for dogs to be microchipped and highly recommended for cats but quite frequently pet owners forget to update the address and contact details registered to their pets' microchip. Ideally this should be done on moving day or shortly after - just in case your pet does decide to go wandering or gets loose from the new home.
Paul Manktelow
Veterinary Surgeon


Dr Paul Manktelow is a vet who's worked for almost 20 years on the front line in some of the UK's busiest veterinary hospitals. Paul also appears regularly in the media as a TV and radio presenter, writer, public speaker and podcast producer.
---