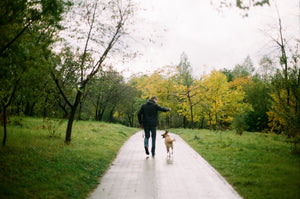 The laws around walking your dog in public
As a responsible dog owner, you probably understand that there are rules and regulations around to keep everyone safe. However, many people are unaware of the repercussions if these rules are broken, or are unaware that some restrictions are limited to certain times of the year (with regards to farmland). These laws are in place to ensure the safety of not only you and your pet, but also other people and animals in our community.
Here are just a few laws and regulations that you should be aware of when out and about with your four legged friend.
Dog Fouling
We all know how disgusting it is when you've accidentally stepped in dog mess, then have to spend time disinfecting not only your shoes, but potentially your home too. However, there are laws which punish people for not picking up their dog's poo. The Dog's (Fouling of Land) Act 1996 states that it is an offence not to clean up after your dog. Failure to pick up after your dog could result in a fixed penalty notice of £100, or a court appearance with a fine of up to £1,000.
Dog Identification
The Control of Dogs Order (1992) requires all dogs in the UK to wear a collar and identification tag in a public place. By law, the information on your tag must include the owner's name and address on it, although we also recommended including a contact phone number and any medical information your dog may have. 
There are some exceptions to this law, such as for dogs used by the armed forces, police or customs officers, and for dogs registered with the Guide Dogs for the Blind Association. 
It's also really important to ensure that your details are still correct and legible. If anything has changed, such as your address, you must get a new tag.
Walking on/near farmland
Be aware of any seasonal restrictions: there may be certain times of the year when there are restrictions on walking your dog near farmlands. This is especially true during lambing or calving season when the newborn animals are vulnerable and easily distressed. It's also a time when mothers can be more aggressive and are easily provoked to attack (if they feel threatened).  During this time, some footpaths or public rights of way may be closed to protect the welfare of these animals.
Respect farmland and livestock. Farmers work hard to cultivate crops and raise livestock, and it is important to respect their property. Keep your dog away from crops and livestock, and stick to designated footpaths or public rights of way. Your dog's presence can cause damage to crops, disrupt livestock, and even spread diseases.
Dangerous dogs
It is really important to have your dog under control at all times. It is understandable that there will be some dogs which have a strong hunting instinct (such as ex racing greyhounds), or reactive dogs which suffer from high anxiety levels. In these instances, you must have measures put in place to ensure your dog does not pose a risk to other animals or people. This may be the case of muzzling your dog, and/or never letting them off lead. 
Failure to take appropriate measures, or if your dog is deemed to be dangerous or out of control in a public place, you could be prosecuted under the Dangerous Dogs Act 1991. Penalties for this offence can result in a prison sentence of up to six months, an unlimited fine, or a dog destruction order.
Summary
Understanding the laws and regulations around walking your dog in public spaces is crucial to ensure the safety of your dog, other people, and animals in the community. Remember to always carry poo bags, ensure your dog is wearing ID tags and be aware of any areas of farmland. By following these guidelines, you can enjoy a safe and enjoyable walk with your four legged friend.
---