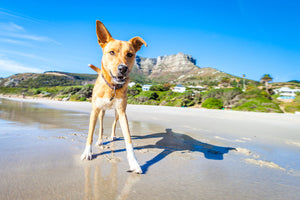 Planning your Summer – why not have a doggy holiday?
If you are thinking of seeking out a bit of sun this summer, why not take your pooch along for the ride! It's getting a lot easier to take your four legged friends along and a dog friendly holiday usually means lots of healthy outdoor activity that is good for all the family.

The European PETS passport scheme is really simple and there have never been more hotels and holiday lodgings happy to accept dogs. There are a few important "must do's" that you will need to organise before your big trip. Don't forget these, as you don't want to get stranded and need a frantic visit to the vet at the border:

• Your dog must have a microchip. This is now a legal requirement so don't try and travel without one.
• Your pooch must have had a rabies vaccine. You will have to wait 3 weeks after the vaccine before you can travel so make sure you book your vet appointment with plenty of time.
• A licensed tapeworm treatment must be administered prior to entering or re-entering the UK. This needs to be given by a Vet no less than 24 hours before returning home.

Your vet will be able to help with any questions you have and if you are looking to venture out further than Europe be aware you may need to do a bit extra to get your pet in and out of the country safely.

When it comes to packing don't forget to pack the doggy essentials. Water bowl, toys, plenty of food, spare towels, poo bags and of course your pets suncream? This is especially true with dogs that have light coats or areas of thin fur as they can burn in sunnier climates just like we do. If you are going "après ski" then invest in warm outdoor wear for your dog too-especially if they are small breeds or those with low body fat.

Do a bit of research before you go away, establish the nearest vets and make sure you know where to go in an emergency. It's always best to be prepared and if your dog has an on going health complaint you can always ask your Vet for a copy of your dogs history to take with you. Just make sure your vet does a thorough health check prior to travel and make sure you are stocked up with any current medications.

It may seem daunting taking your dog away for a summer vacation but it is really quite simple and I guarantee they will enjoy the sites and smells just as much as you! A little bit of preparation can give you both a lifetime of memories!

Paul Manktelow regularly appears in the media as one of the UKs leading veterinary surgeons. His accomplished career as a vet allows him to talk on a number of key animal subjects and he regularly provides valuable advice to pet owners across the UK. Appearing on TV shows such as Junior Vets, Animal Madhouse and This Morning, he also writes columns for the Times, Dogs Monthly and blogs on his popular website Vital Pet Health.
Paul Manktelow
Veterinary Surgeon


Dr Paul Manktelow is a vet who's worked for almost 20 years on the front line in some of the UK's busiest veterinary hospitals. Paul also appears regularly in the media as a TV and radio presenter, writer, public speaker and podcast producer.
---