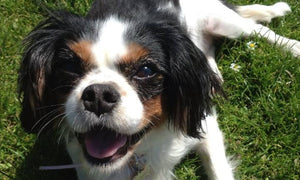 Lucy's Law
On April 6th 2020, after years of campaigning, Lucy's Law was passed. Heralded as one of the most significant pieces of legislation for pet welfare, this law is a huge step forward in the battle to end puppy and kitten farms.

Lucy's law was named after Lucy a Cavalier King Charles Spaniel that was rescued at the age of 5 by Lisa Garner. The horrific conditions that Lucy had been subjected to resulted in multiple health problems. Her hips had fused together; she had a curved spine and she was suffering from untreated epilepsy. She had spent most of her life in a cage until she could no longer produce any more puppies.

Thanks to Lisa's successful rescue, Lucy was thankfully able to enjoy three years of love and care before she sadly passed away at the age of 8 in 2016.

Lisa alongside vet Marc Abrahams went on to campaign tirelessly to ban cruel puppy and kitten dealers until finally this year on April 6th Lucy's Law was passed. Marc appeared on Channel 4's Crufts this year with TV presenter and vet Paul Manktelow to announce this exciting development in animal welfare.

Lucy's law now prevents any third party puppy or kitten sales in England. These puppy and kitten farms will often use a third party dealer as their main route of distribution of these poor pets that are often unwell and under socialised. These dealers will often pose as responsible breeders and place multiple adverts online and across social media, even hiring fake homes and bringing in fake mothers for the litters to appear to be credible. Sometimes they make up stories of why prospective pet parents aren't able to visit their house and will ask instead to meet in public locations where they often have multiple pets in the car.

The law change means that prospective pet owners must now buy directly from the breeder or consider adopting from a rescue or rehoming centre. Commercial dealers and pet shops, including online dealers, will no longer be allowed to sell puppies and kittens unless they have bred the animal themselves.
Licensed breeders are now required to show puppies interacting with their mothers in their place of birth, and this is to ensure that all puppies and kittens are reared in a safe environment with their mother.

If you are looking to adopt a puppy or kitten then it is vital you follow these guidelines to ensure you purchase a healthy happy pet:

Research, research, research!


• Look carefully in to the seller's profile and search their name online. If they are advertising multiple litters or different breeds this is a huge red flag! You can now report suspect third parties to the RSPCA as fines and even heavy prison sentences can be implemented.

• Check their contact details and copy and paste their phone number in to a search engine-if this number is being used on lots of different adverts, sites and dates this is likely a third party seller operating against the law.

• Check the animals age-never purchase a puppy or kitten under the age of 8 weeks.

• Beware of puppies and kittens labelled as 'rescue' but with much higher than expected price tags.

• Make sure you check the animals' health records. They should have received at least the first part of the vaccination course as well as been micro-chipped and received flea and worming treatments. Health problems observed at purchase are not normal and don't be convinced otherwise.

• Always aim to visit the pups and make sure you see mum. Some third parties will use a "fake mum"-these will not usually interact with the puppies' as they fear the real mum may return.

• Never buy on the first visit. Understandably, people will often make emotional decisions, especially if faced with an animal that looks weak or sick. A good breeder will let you reserve a puppy or kitten and take some time to make your choice.

By being vigilant in purchasing a puppy or kitten it will make the dealings of puppy farmers much harder. And hopefully thanks to Lucy's Law and the publics co-operation in time will shut down those operating puppy and kitten farms altogether.

COVID-19 STATEMENT: During the lockdown it is understandably harder to follow the above guidelines with social distancing measures in place. Please consider carefully where you are getting your new pet. Many puppy farmers are taking this opportunity to avoid diligent buyers from seeing mum and pups due to lockdown rules and will conveniently "drop off" your new puppy or kitten to you. Please insist on multiple video calls with mum and pups where possible, and look out for any warning signs. Finally, please consider waiting until lock down measures are eased enough to enable a visit with the breeder, mum and pups at home; this is one of the surest ways of knowing exactly where your puppy or kitten has come from.
Paul Manktelow
Veterinary Surgeon


Dr Paul Manktelow is a vet who's worked for almost 20 years on the front line in some of the UK's busiest veterinary hospitals. Paul also appears regularly in the media as a TV and radio presenter, writer, public speaker and podcast producer.
---