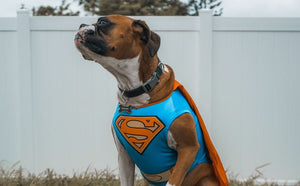 Hero Dogs: Guide Dogs
Dogs come in all shapes and sizes and we love them for all of their unique looks and personalities. Some dogs, however, have special qualities that enable them to enhance their owner's quality of life and in some cases be life-changing.

One of these particularly well-known assistance dogs is Guide Dogs for the blind who were established way back in 1931. The first 4 guide dogs were German shepherds named Judy, Flash, Folly and Meta. Most commonly we now see Labradors, German Shepherds or Golden Retrievers as guide dogs with Labradoodles being a more newly introduced guide dog breed.

From small beginnings Guide Dogs have gone on to grow and there are now around 5000 guide dog owners in the UK. The average lifetime cost of a guide dog is £55,000 and with 1000 dogs trained every year the charity relies heavily on donations and sponsorship to continue its fantastic work.

So what happens during the average career of a guide dog and how much support do they provide?

Most guide dogs are born within the home of dedicated volunteers and they will stay in their birth homes until they are 6 weeks of age. At this point the puppy along with its siblings will go the Guide dogs National Breeding Centre (NBC) to undergo a puppy profiling assessment. These assessments are a series of specialist exercises to ascertain individual personality traits as well as their level of awareness and concentration.

Whilst this sounds like a lot for a small puppy the exercises are enjoyable and their time at the NBC also provides them with lots of play and stimulation. Of the approx. 1500 puppies that are assessed over the course of a year only a tiny portion, of around 30 pups, will not make it in to the next stages of training and will go on to making wonderful family pets.

Those that pass go on to be placed with a Guide dog volunteer puppy walker for a year and with guidance from a puppy qualified training supervisor will go on to teach them basic obedience and best behaviour. After this period they go on to the national training school for 19 weeks to hone their specialist skills, from there it is on to secondary school which is a further 12 weeks of working with various mobility teams.

Upon graduation they are then matched based on a complex compatibility system and will go on to work for the next 6-7 years.
The assistance these remarkable dogs provide is really quite extraordinary. They give back to their owners their independence and the safety of the outside world.

Guide dogs are specifically trained to:
• Walk centrally along the pavement whilst avoiding obstacles
• Not turn corners unless instructed to do so
• Stop at kerbs and steps
• Find doors, crossings and places which are visited regularly
• Judge height and width so that their owners do not bump your head or shoulder
• Help to guide you straight when crossing road once instructed to do so
• Provide Companionship!

After their years of service and companionship retirement is well earned and all Guide dogs are guaranteed a comfortable retirement with either their owner or another dedicated family.

To all the guide dogs out there, Thank You! You are true dog heroes!
Paul Manktelow
Veterinary Surgeon


Dr Paul Manktelow is a vet who's worked for almost 20 years on the front line in some of the UK's busiest veterinary hospitals. Paul also appears regularly in the media as a TV and radio presenter, writer, public speaker and podcast producer.
---