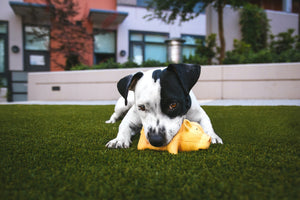 Doggie gift guide
Are you struggling with what to get your dog for Christmas? We have put together this blog to help you out and perhaps give you ideas for next year. Here are a few ideas for you:
Treats - If your dog has a strong sense of smell, make sure to hide the treats elsewhere rather than underneath the tree. Doggie chocolate is a great way for them to feel included especially in doggie advent calendars. Make sure you don't buy a human chocolate advent calendar as it can be easily mistaken. When buying treats it's important to ensure that if your dog has any dietary requirements such as allergies or intolerances that any of those ingredients aren't included. 
If you are unsure about whether your dog is allergic to anything, speak to your vet.
Toys - Toys are important for a dog as they provide something for them to chew on so they won't chew your belongings instead of their own. Chew toys provide mental stimulation for them and can help keep their teeth clean as well as allowing them to exercise their jaws. Before buying your dog toys make sure that there aren't any small parts for them to bite off and make sure the toy isn't too small as these could be choking hazards. You should double check that plastic toys aren't coated in any harmful toxins. You could hide treats in toys such as kongs or puzzle toys where they have to work for their food and it will keep them engaged when the treats fall out of the toy.
Accessories - When buying accessories such as collars you should choose one that is suitable for the breed, size and age of your dog. Dogs tend to grow very quickly in their first few years so you should check their collar's condition and fit every couple of weeks to ensure they aren't loose or too tight. Also when buying a collar you should make sure you have an up to date dog tag with all the correct contact information such as your phone number, address and if they have any medical information, for example, allergies.
If you want to buy a new collar or ID tag for your dog this Christmas, visit our website where we can offer personalisation and a range of styles suitable for your dog's personality here https://engravingstudios.co.uk/ 
---