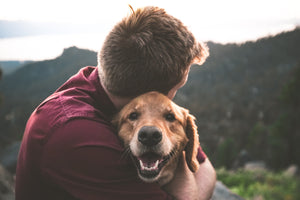 Caring for your pet in a cost-of-living crisis
Being a pet owner has just become more expensive with costs increasing across the board, including pet foods and veterinary fees. A recent survey from the Dog's Trust revealed that 48% of owners will now find it difficult to provide for their dogs, so it is not hard to see why the current economic climate is concerning for many pet owners. So here are some of my top 5 tips on how to help pet owners navigate their way through a cost-of-living crisis.
Prevention is better than the cure. 
Keeping on top of your pets' health by performing regular nose to tail checks at home is a great way to catch any health concerns early.  Health issues that are left longer can end up being more expensive to sort in the long run so identifying and monitoring problems early can help with your budget planning. If you are struggling to pay for vaccines or parasite treatment, then speak to your vet.  The risks of missing a vaccine in an older pet that's been vaccinated all its life are a lot less than an unvaccinated puppy.  You could also find out whether disease outbreaks in the area could help inform your decisions.
Shop around! If your dog is on any long-term medications, it may be worth investigating the costs of these medicines from an online pharmacy. Quite often these medications are cheaper than your vets because these retailers buy in bulk. You might have to factor in the cost of your vet's written prescription fee when doing your research and remember you will still have to continue to have regular health checks for your pet's condition. 
What to do about pet insurance
This is a tricky one as insurance gives you peace of mind around the risk of those large expensive veterinary bills should your pet have an accident or become unwell. The reality is that many people are facing very difficult financial decisions, and insurance might be something you are considering cancelling. Before you do it might be worth checking with your vet to see if they would offer you a payment plan should your pet need unexpected emergency treatment, or whether there are any low cost or charitable veterinary services that you can access in the area if your pet becomes sick. 
Recycle and Reuse! 
There are some great home hacks on how to make a huge variety of toys without spending a penny. An old pair of jeans or some of those old t-shirts at the back of the wardrobe can make an excellent tug toy for your dog. Cut the fabric into strips and tie them into secure knots for hours of cheap fun. Cats love to chase and pounce so tying small bits of fabric onto some string can create a perfect toy but remember as with any toy don't leave them unattended and don't allow them to swallow any parts of it. For those with smaller furries, a few toilet rolls stuffed with hay and a few tasty morsels can also be great fun for your rabbit or guinea pig. 
Dinner Time
With food costs increasing there are a number of ways you could keep costs down. Buying in bulk such as getting larger bags of food often works out cheaper in the long run and see a small saving. Shop around for the best deals and consider cheaper alternatives where appropriate. If your dog is on a specialist diet speak to your vet to get advice on safer alternatives.
The Blue Cross has also set up a number of incredible pet food banks which aid pet owners across the country by providing pet food without judgement to owners who need their assistance.
Caring for a pet has always been a huge responsibility and undertaking but if you do find yourself struggling with an unexpected vet's bill or purchasing the essentials please don't struggle alone. There are some great resources out there and plenty of people who want to help, don't ever be afraid to ask.
Paul Manktelow
Veterinary Surgeon


Dr Paul Manktelow is a vet who's worked for almost 20 years on the front line in some of the UK's busiest veterinary hospitals. Paul also appears regularly in the media as a TV and radio presenter, writer, public speaker and podcast producer.
---