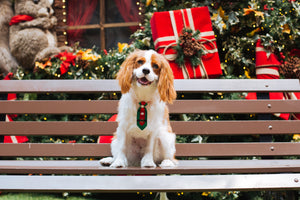 Accessories for your dog this Christmas
Christmas is almost here and we hope that you're all getting excited. While you're dusting off your Christmas jumper have you thought about getting your dog a new collar, bandana or tag in time for the festivities?
Collars - When buying a collar it is important to make sure you get the right size and adjust it to fit your dog's neck correctly, this is when you can snugly fit two fingers between the collar and their neck or you can pull the collar to their ears without it pulling completely off. If you have gotten a new puppy and haven't started collar training yet when they are 10 weeks old is the perfect time as they aren't allowed out for walks yet and have to make sure they have all their vaccinations. So when choosing a collar for your puppy you should choose one that is lightweight, has snaps or clips rather than buckles, is a flat collar and is soft, you will need to buy a new collar when they are an adult so it doesn't matter if this one isn't strong enough for an adult.
Leads - After buying a collar to start collar training your puppy you'll need a lead for when you start taking them out for walks. The type of lead you get depends on how obedient they are, the breed and size of your dog. For example a retractable lead is best for smaller dogs who have no obedience issues but a slip lead is best for dogs that may get easily distracted or may have problems whilst walking as it allows you to correct your dog whilst on your walk. 
Bandanas - As long as your dog is comfortable with wearing a bandana and happy with it they are a great way of non verbal communication to other dog owners about your dog such as if they are a nervous or anxious dog as well as if they are deaf or blind. They are also a great way to keep your dog cool in the summer as some can be soaked and rung out to keep them cool for hours. Some bandanas can help reduce anxiety by calming sprays being applied to them. 
Bow ties - Just like bandanas, you should make sure your dog is comfortable and happy with wearing a bow tie because if not you shouldn't force them as it can make them anxious and stressed. If they are comfortable with wearing a bow tie, they are a great way to add a little something special to your dog's collar and can help them feel included for special occasions such as weddings or birthdays. 
Tags - When buying tags it is important for them to include the correct information such as your contact number and address so that in case your dog decides to go on a solo adventure. A plastic tag is a great lightweight tag that has sharp contrast lettering because of the variety of colours to choose from.
If you want to buy a new collar, ID tag and more accessories for your dog this Christmas, visit our website where we can offer personalisation and a range of styles suitable for your dog's personality here
https://engravingstudios.co.uk/
---